Instagram has been one of the most popular social media platforms ever since it came out. It has various uses – from sharing photo updates with your friends to building your business, it makes it so popular.
Whatever the reason for having Instagram, many people have the same interest – how to save photos from Instagram. You may need that post for something else in the future – but what is the best way to keep it?
Luckily, we have compiled this helpful guide to help you – all you have to do is keep scrolling to find the best tips and tricks!
Why Can't You Save Photos Directly on Instagram?
Well, it all comes down to Instagram's copyright rules. Instagram has made saving photos quite challenging to make copyright less of an issue on its platform – which other platforms have to deal with daily.
Suppose you posted an Instagram post, whether a photo or a video, and you are the sole owner of the copyright to said post. Thanks to that rule, you own the content, and that should prevent other users from copying or reposting your content.
Of course, when contacted, most users will allow the repost of a photo or video, as long as they are credited in the caption. However, no one has the right to repost your posts without credit.
As Instagram counts over a billion users, it can be hard to track who saved photos for their gallery and who saved them from posting them as their own. So, to prevent more issues with copyright infringement, there is no option to save photos directly.
If you wish to read more about Instagram's rules regarding copyright, here is the complete list.
How to Save Instagram Photos to Camera Roll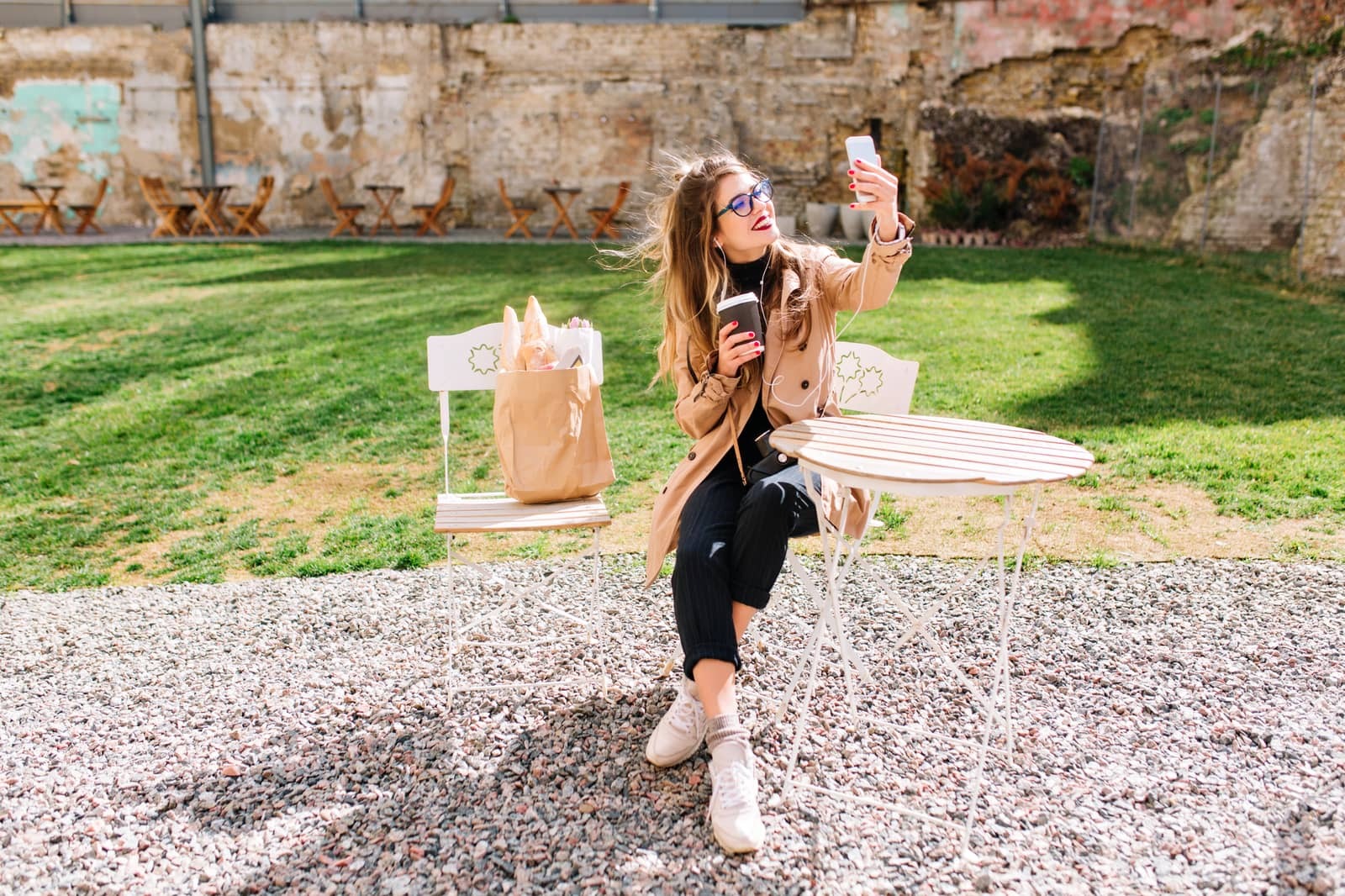 Instagram's camera can sometimes caption a moment much better than the phone camera, so it's natural to use it for certain things. However, you might want to share that post to your other platforms without sharing your Instagram – and for that, you will need to save photos to your camera roll.
Lucky for you, that's relatively easy – with the change of a specific setting, all your posts will be saved directly in your camera roll, so let's begin.
First, you will open the Instagram app and log in if you aren't already. Then, when you are taken to the home page, you will tap on your profile picture in the bottom bar, located at the bottom right corner.
Then, when you enter your profile, tap on the hamburger-like icon in the upper right corner, giving you more options.
Out of those options, you will choose Settings, located somewhere in the middle.
In Settings, choose Account and tap on it.
In Account, you will scroll down a bit until you see Original posts and tap on that.
In Original posts, you will be presented with three options: to save original posts, photos, and videos. You can turn on whichever setting you like best. Remember, when the icon beside it turns blue, it's turned on.


How to Save Instagram Photos on PC
Saving photos to your camera roll may be a breeze, as it takes a change in settings before all of your photos are saved automatically. On PC, saving photos from others can be a bit of a challenge, but it's not too difficult.
However, you will need to dabble a bit in coding, as a neat little trick in your browser can help you save pictures without the PrtScr button.
First, you will open up Instagram and log in if you aren't logged in already. Then, find the post you want to save to your PC.
When you find that post, right-click on it and select Open in a new tab.
Then, use the right click again and choose View page source.
You will see lots of code, but don't let that worry you – all you have to do is use the helpful feature Ctrl+F to find a '.jpg'.
When you find the first .jpg link, you will select it all and copy it.
Open a new tab and paste the link into the URL bar.
When the picture appears, use the right-click and save the photo to your PC!
How to Save Photos from Stories
This is a situation far too many of us have been in. You took a selfie on Instagram for a story, and you like it but don't want to post it. Now, you can hope to get another great picture, but you genuinely want to save this moment, and you need to know how to save Instagram photos to your phone.
So, what can you do besides pressing discard and trying to forget about that fantastic picture?
Well, there is another way – and it's a relatively new feature on Instagram.
When you take a selfie you love and want to keep; you must tap on the three dots in the upper right corner. Then, you will have the option to draw or save and select save.
Your selfie will be saved to your camera roll, and you don't even have to post it!
How to Save Instagram Posts from Others
Maybe you liked a photo too much or have come across a fantastic recipe you want to try later. Screenshotting can be the way to go, but if you want to avoid your screenshots folder from piling up with various things, there is another way to save a post.
A while ago, Instagram added a bookmark feature, where you can save anyone's post and look at it later. It looks just like a bookmarking icon and is located under every post, in the far right corner – opposite the heart.
Then, you can review everything you have ever saved in your profile. All you have to do is:
Tap your profile picture in the bottom right corner and go to your profile.
Then, you will tap on the hamburger-like icon with three stripes.
Out of all the options, you will go to the Saved posts, and there, you can review everything you ever saved.
Extra tip: if you save a lot of things, it can be hard to keep track, which is why Instagram allows users to make collections. To make a new collection, all you now have to do when you are in Saved posts is tap on the plus in the upper right corner.
You can name every collection differently to find whatever you're looking for in a pinch!
The collections look just like a feed, but they are a compiled list of your saved posts. Owners of the post cannot see who saved their posts – but business profiles on Instagram can see if users have saved the post. They can't see which users, though.
So, if you were worried that somewhere out there knows you are saving their posts – don't worry; that information is private!
If you were wondering how to save Instagram photos to the gallery, the only natural way is to screenshot them – but make sure you use that option only for private purposes. Don't share content from others without getting permission first.
Why Do People Save Instagram Posts from Others?
Well, there are a couple of reasons people want to save posts from others. They could be interested in reading the post later, they could simply think it's a nice picture, but there are other, important reasons, as well.
You should always tap the bookmarking icon on a post that mentions your brand. You can then review these posts and repost them – but make sure to contact the content owner before reposting it and put the credit where credit's due.
Another great thing is that saving posts boosts the engagement rate, so more people will see the post where your brand's mentioned – which is nice, too.
With the option to save posts, you can track your competitors and what kind of engagement they have on their posts. You could keep their posts from getting a better look at their captions and hashtags.
Everyone can learn something from their competitors – and you are no different. They are doing something to boost their sales, and their methods can inspire you; just don't copy them word-for-word.
Another great way to use your collections of saved posts is to make vision and mood boards. Save quotes and captivating posts that inspire you, and you can recreate them later. Digital vision boards are now more popular than ever, and you can use that.
Final Thoughts
We have established that there are plenty of ways to save Instagram posts. You can save your posts to the camera roll without any trouble. There are various ways to save posts, which can help you create that vision board you want.
This helpful guide makes managing your posts a breeze, but make sure to respect copyright rules set by Instagram. If you want to repost something, contact the owner first.
Stay on the safe side!